This section of the Regional Catchment Strategy provides maps and other images that provides information in a visual format to inform users of bio-physical and environmental features that make up the region. These bio-physical and environment features form the basis of how land is managed.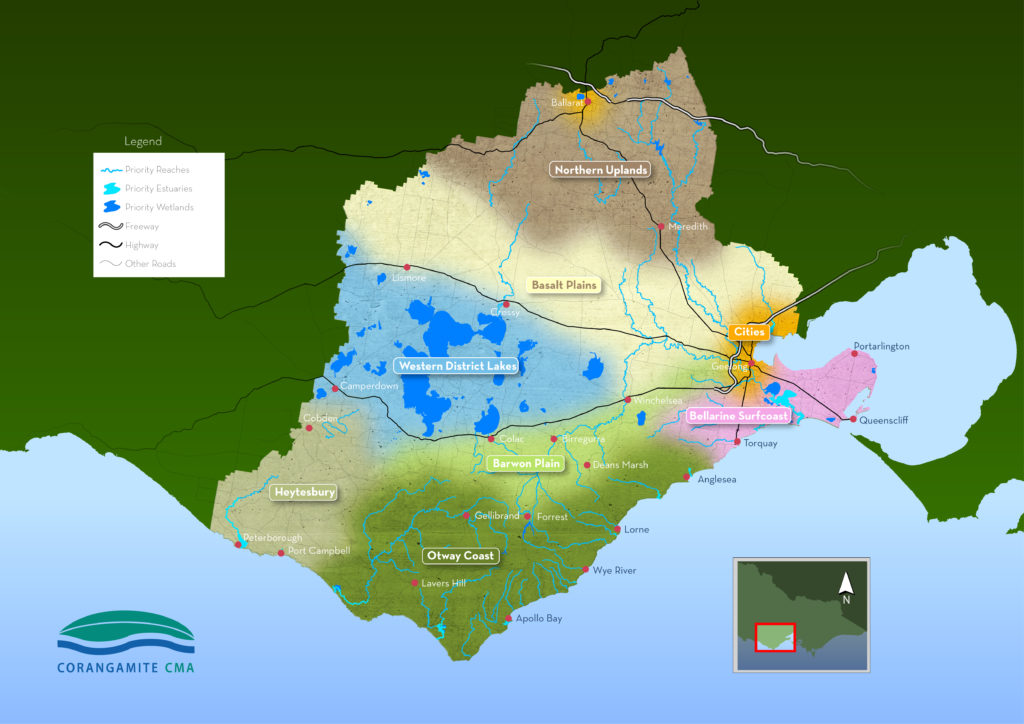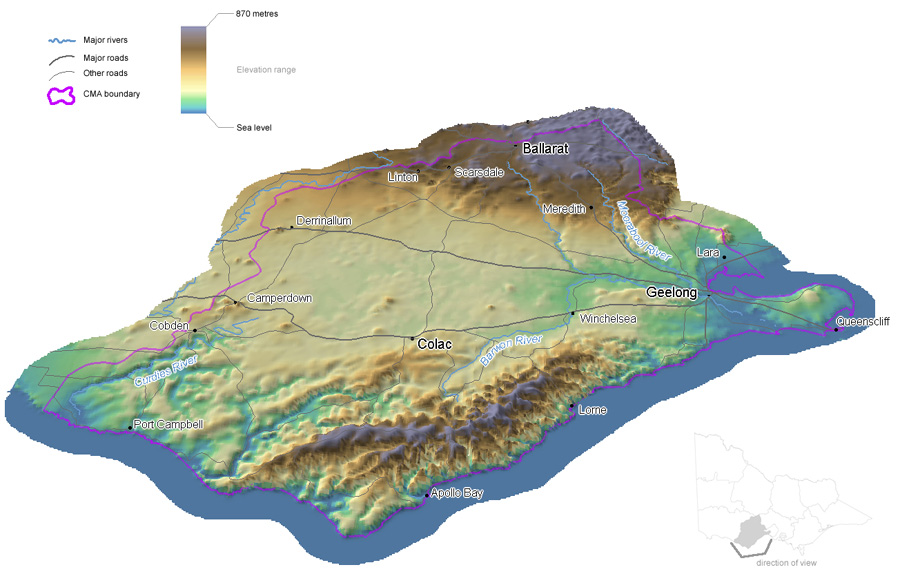 Static Regional Maps
This set of maps provides an insight into a regional perspective of land, water, climate, biodiversity and community assets within the Corangamite region.
Land
The maps below present physical characteristics of the regional landscape as well as public land location and land-based threats such as erosion, landslides and salinity.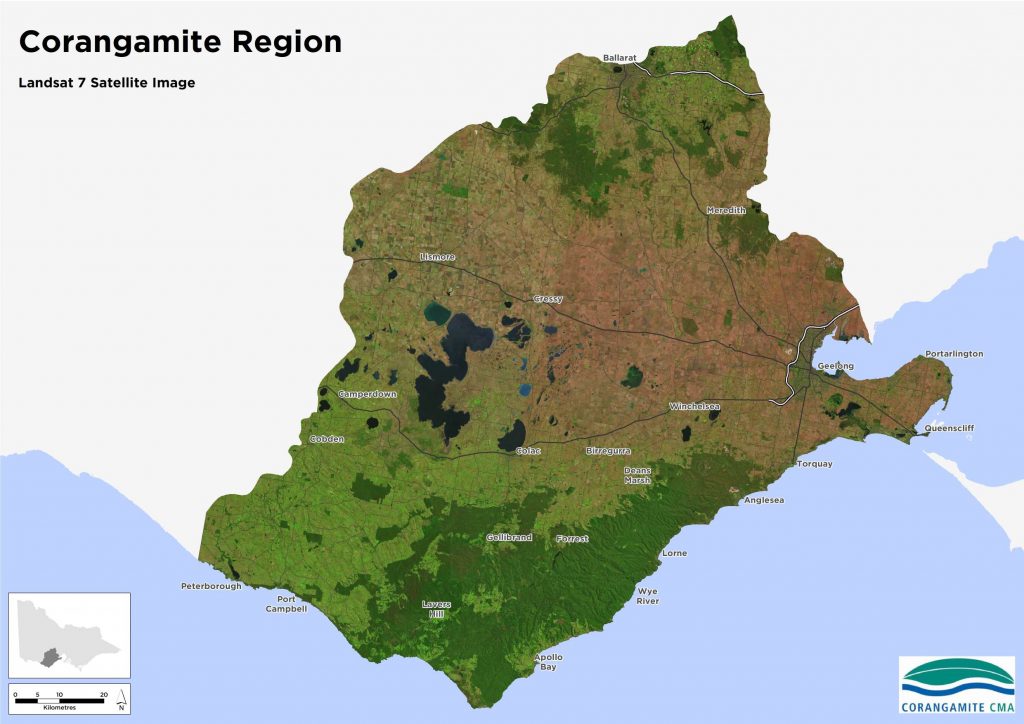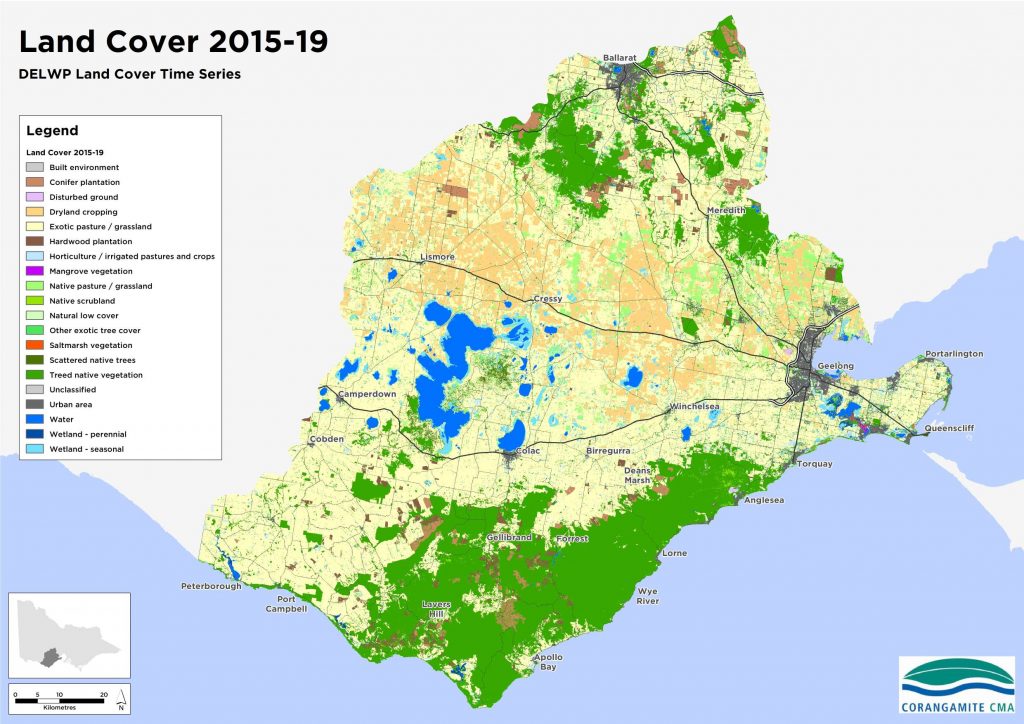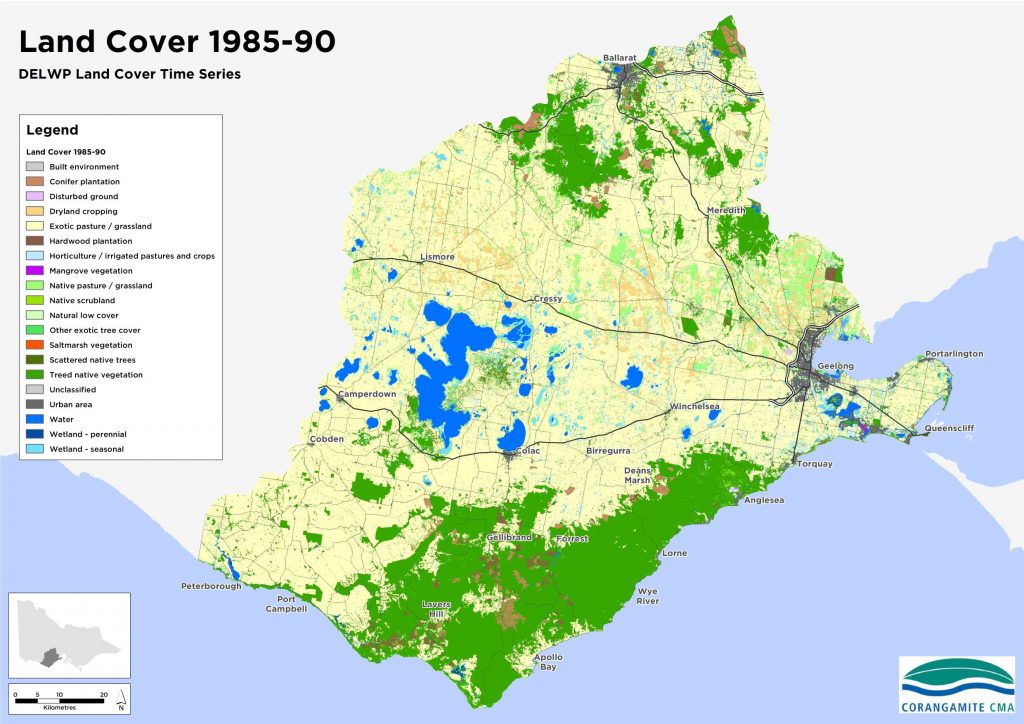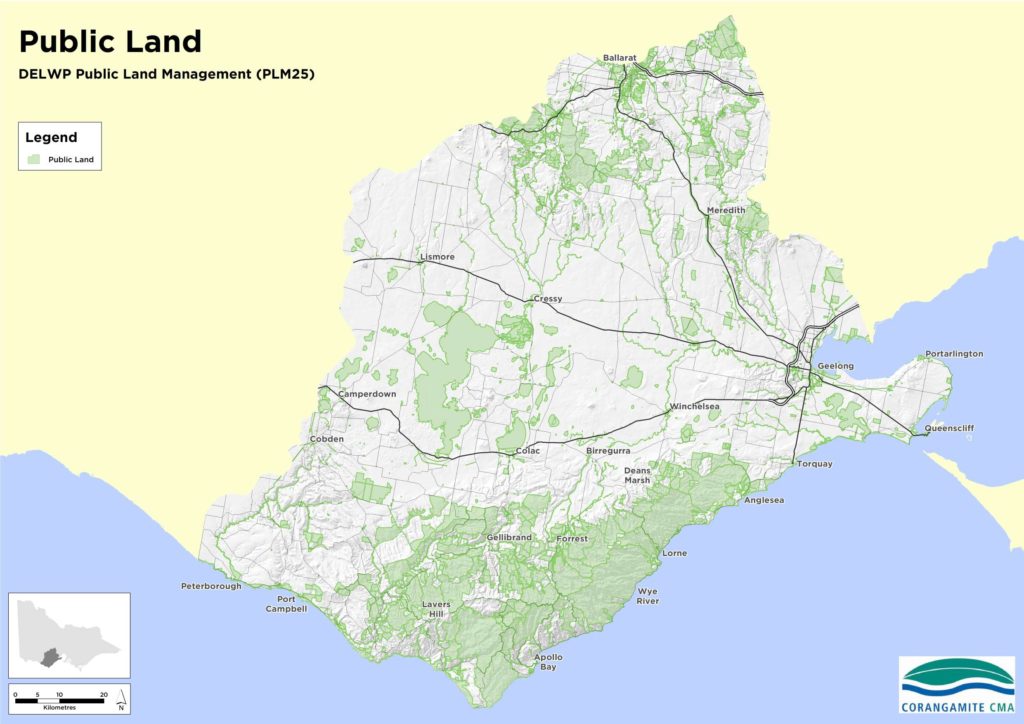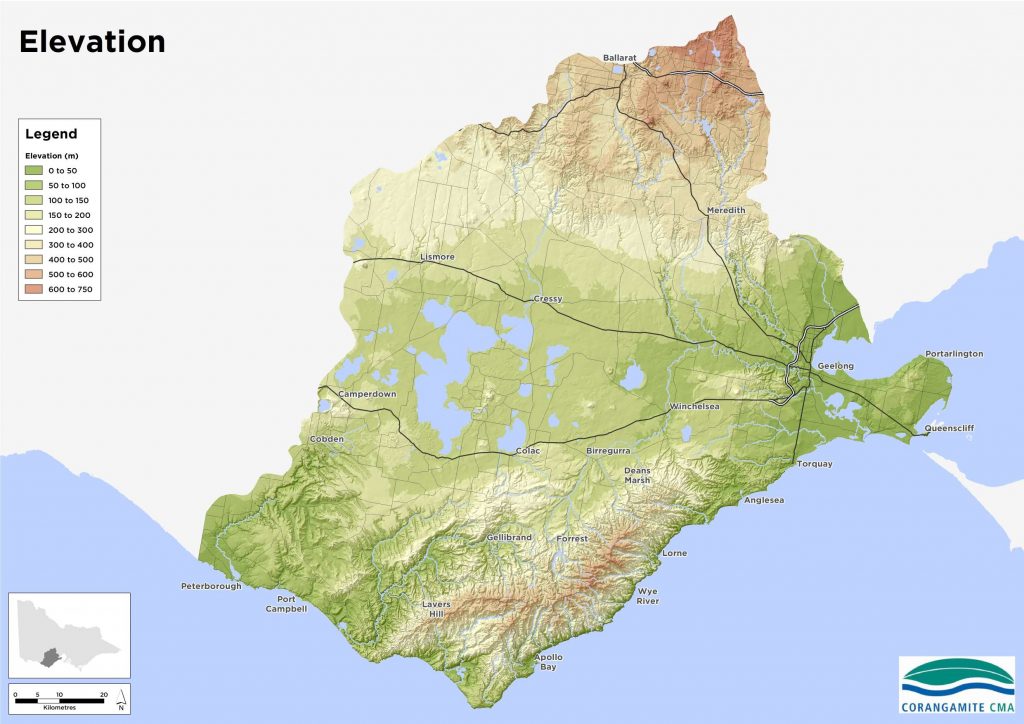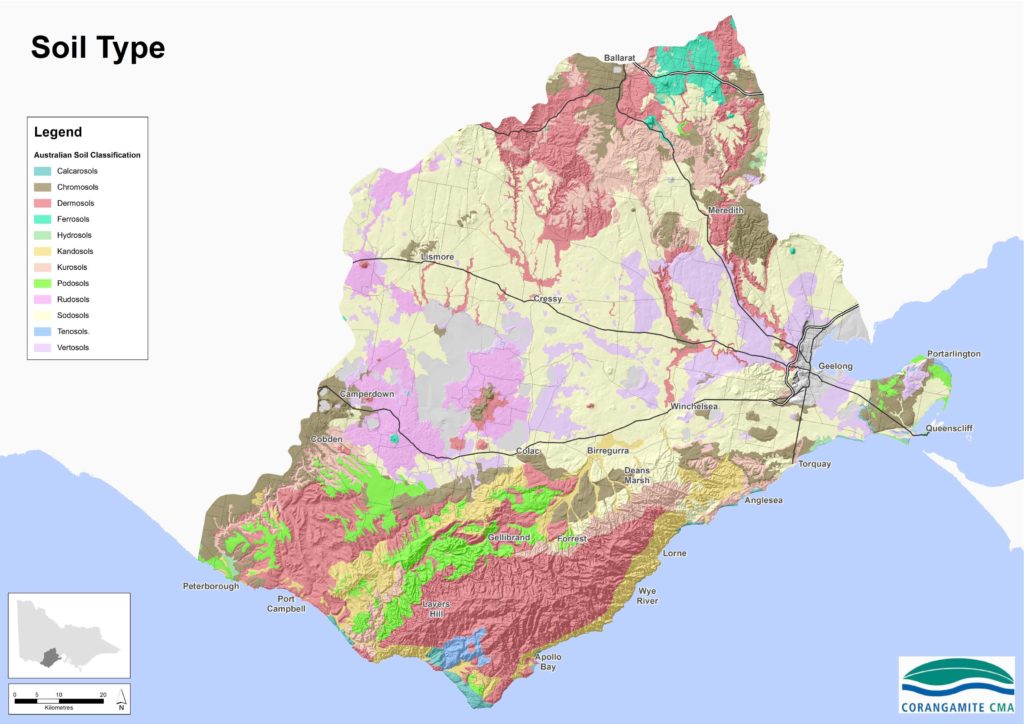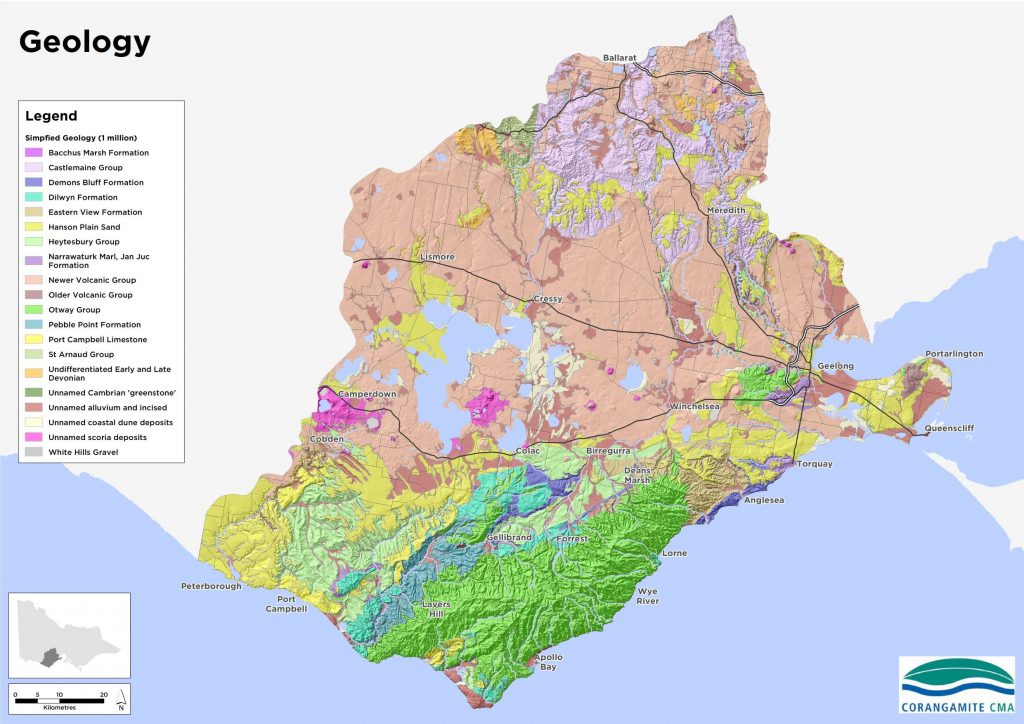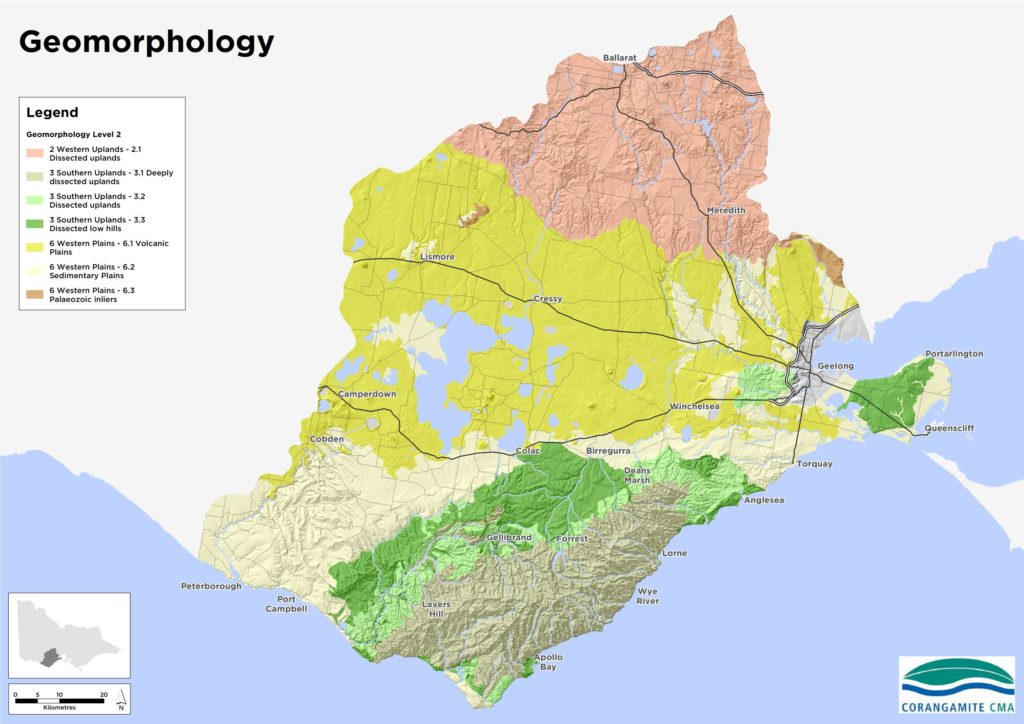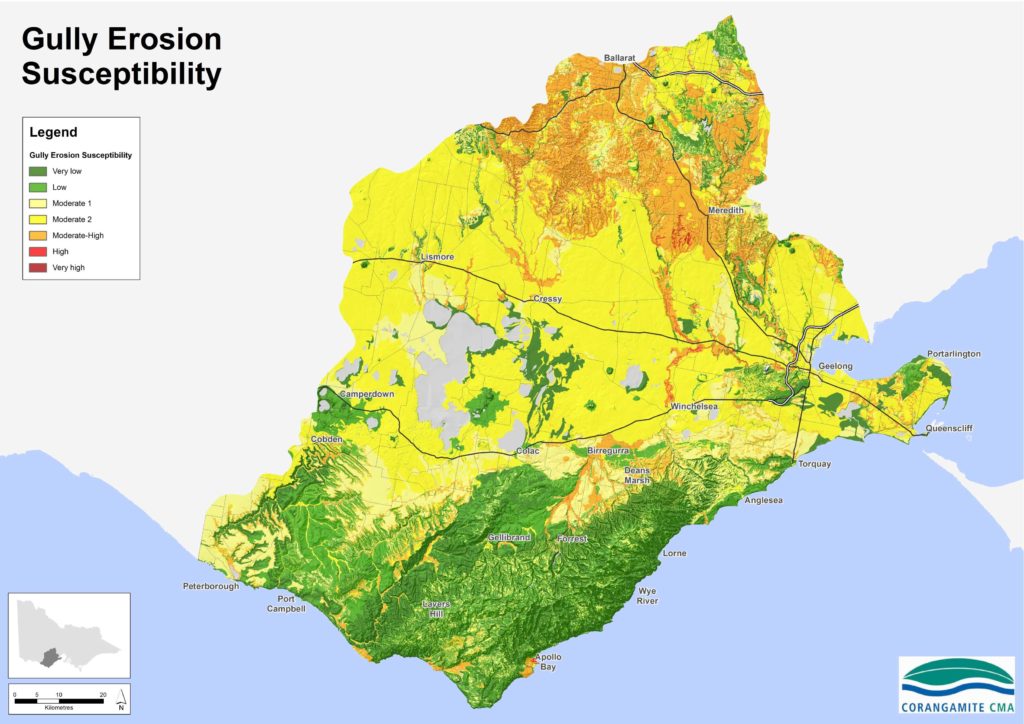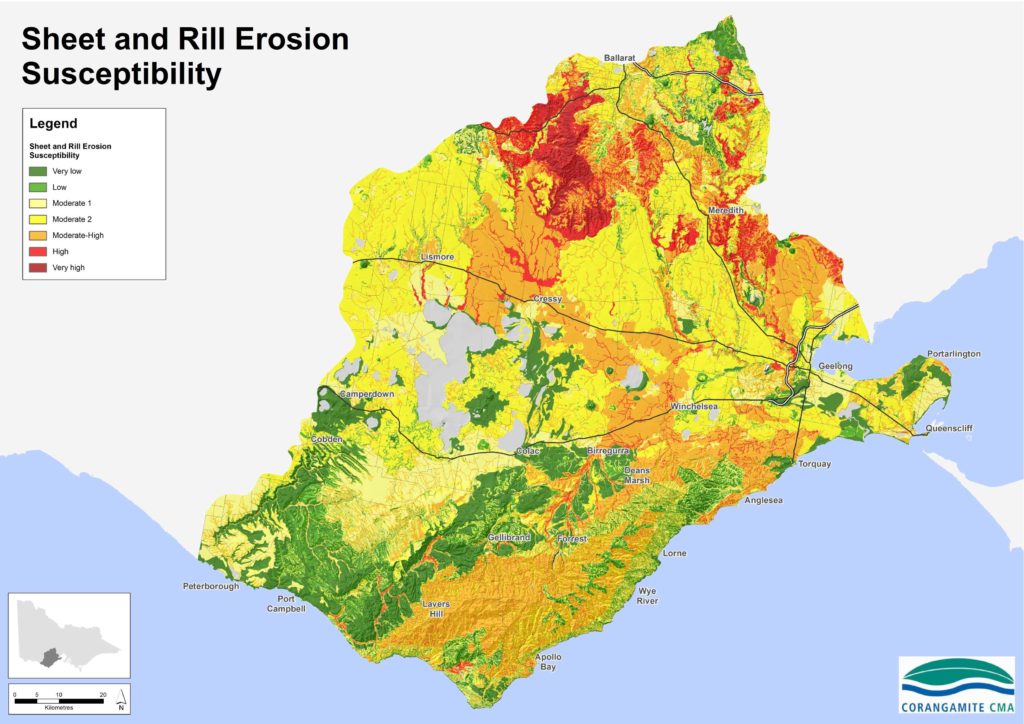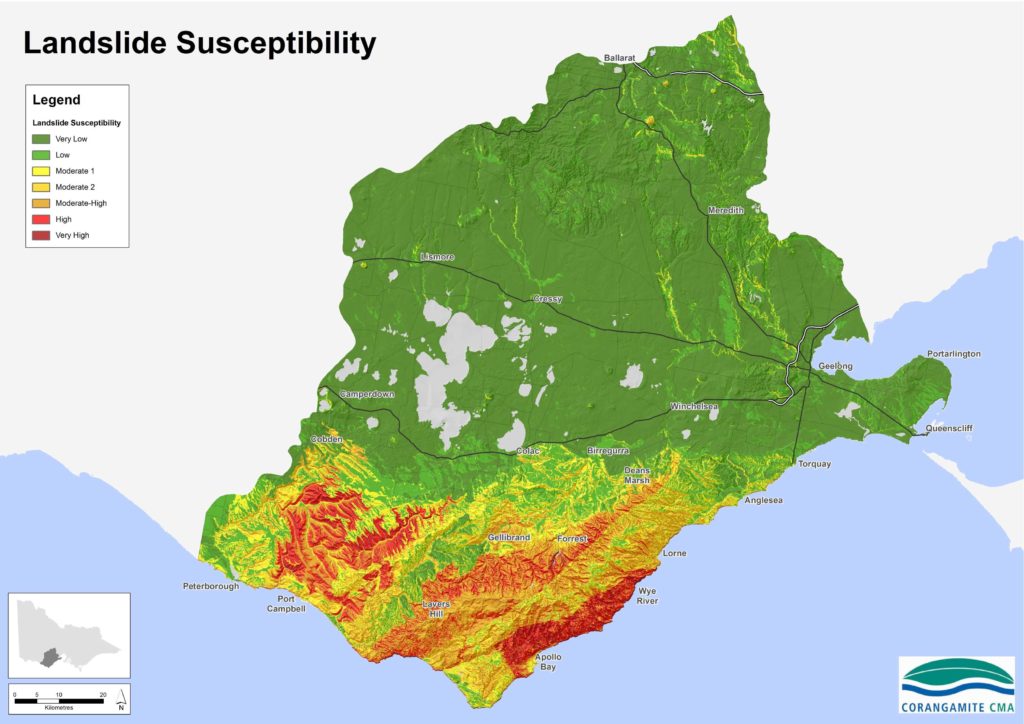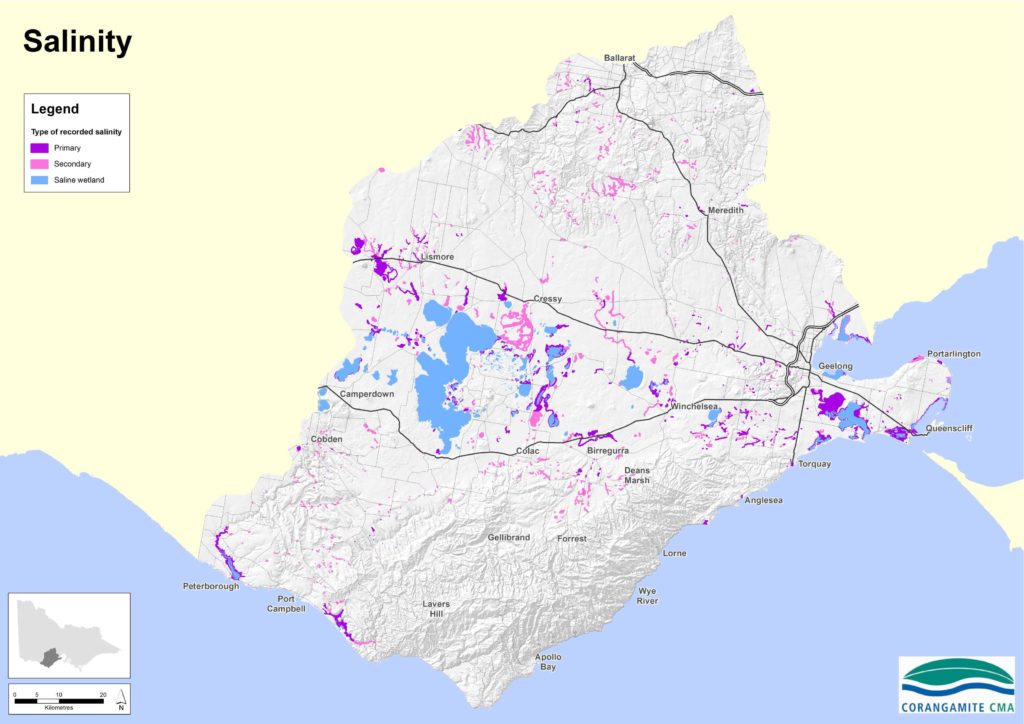 Biodiversity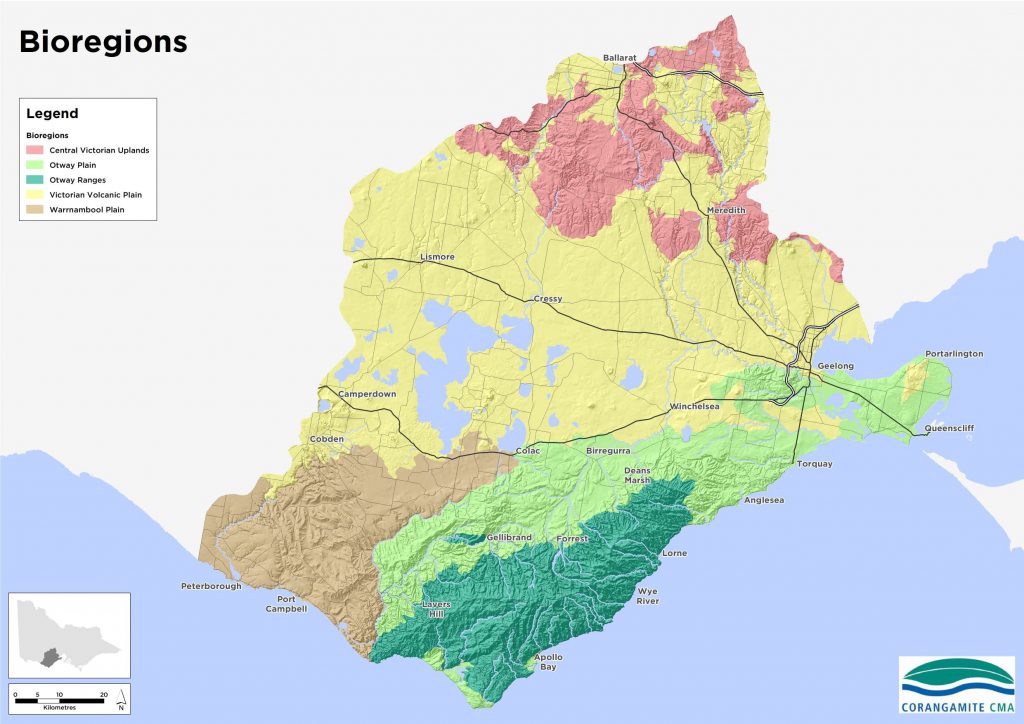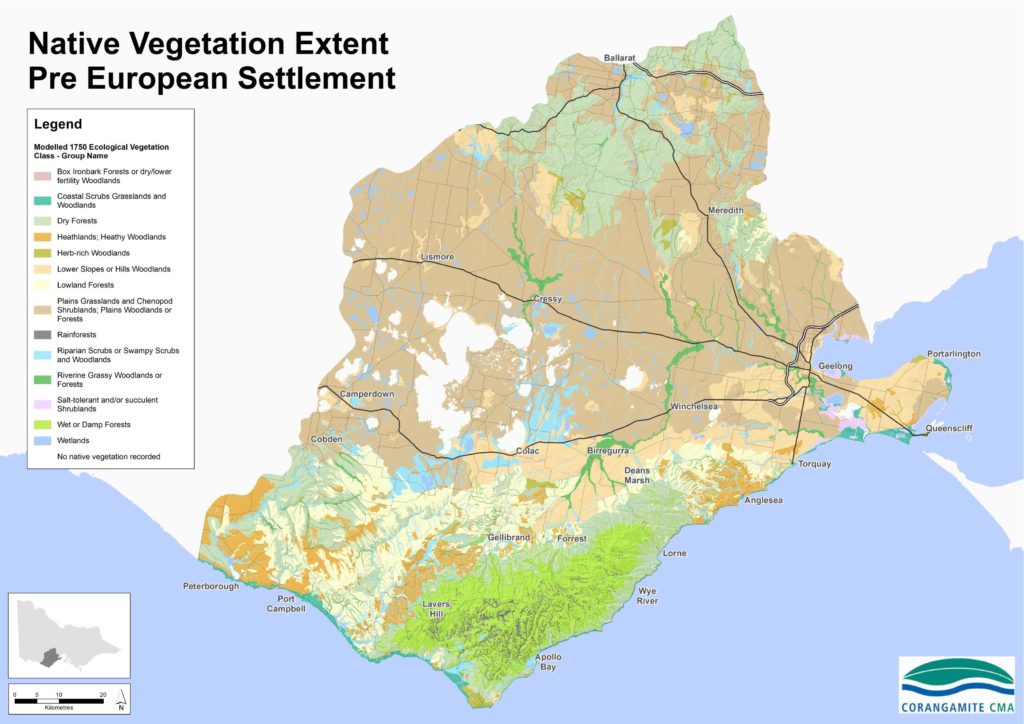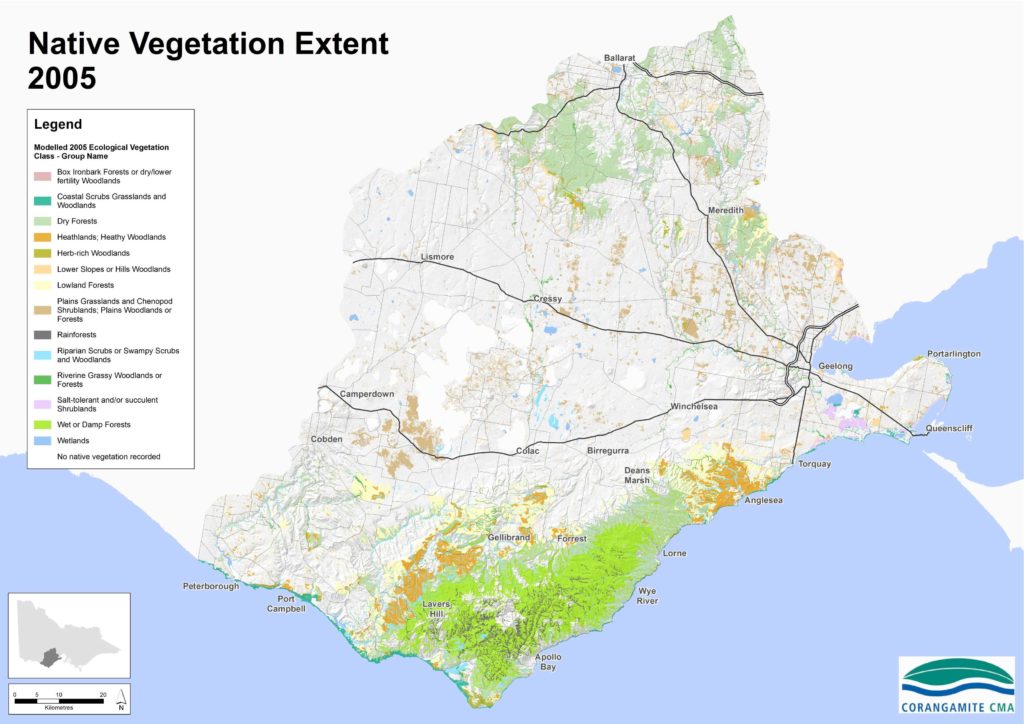 Water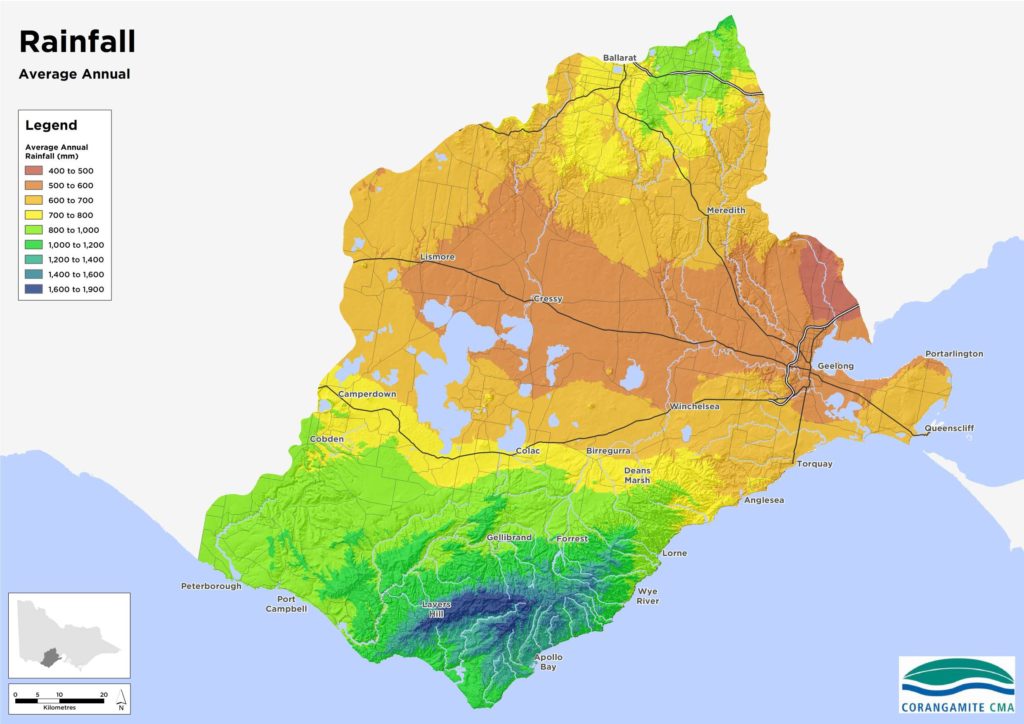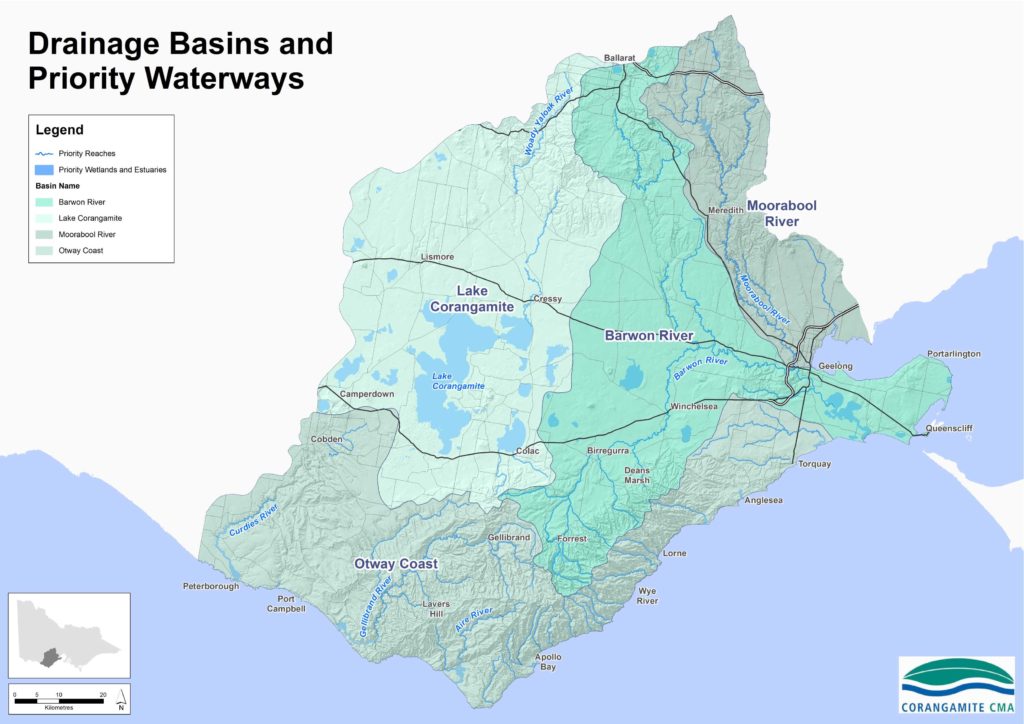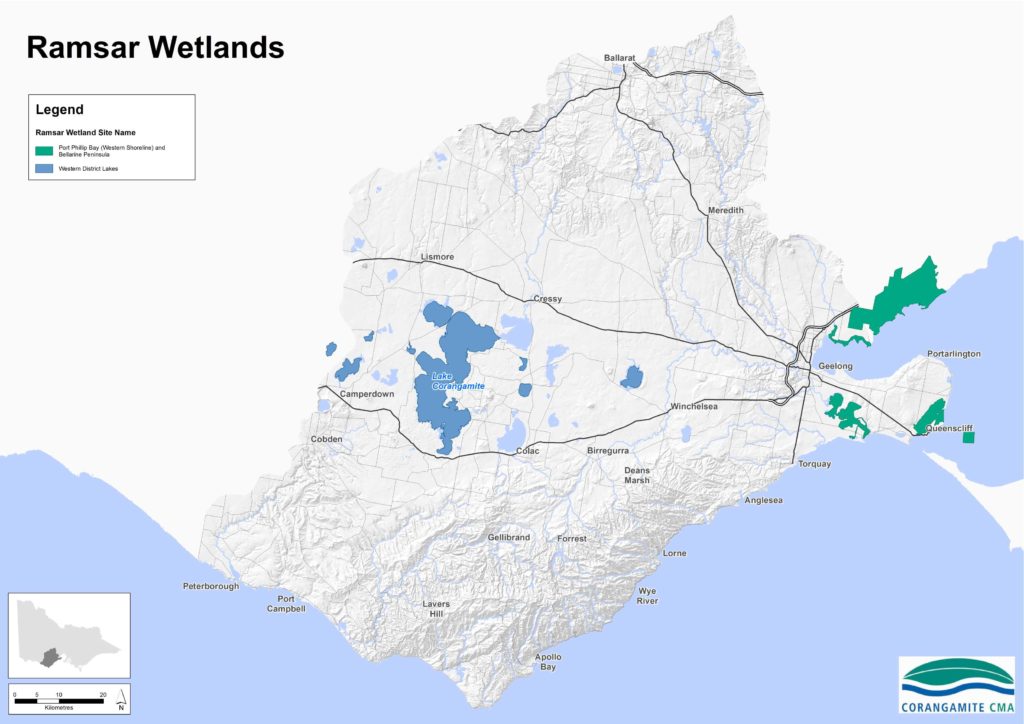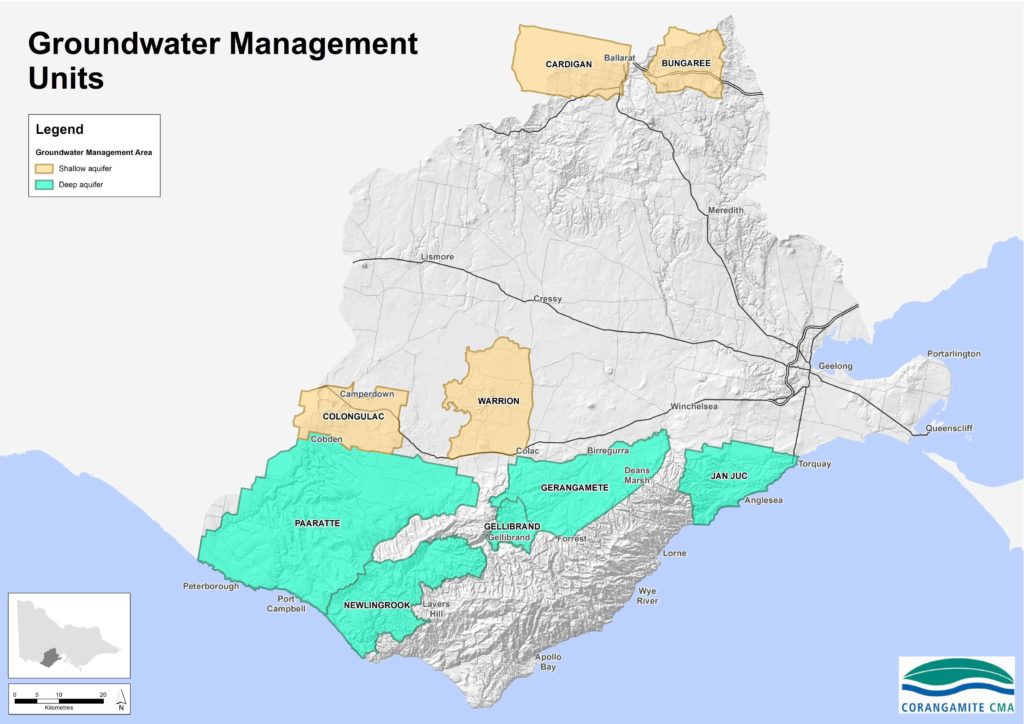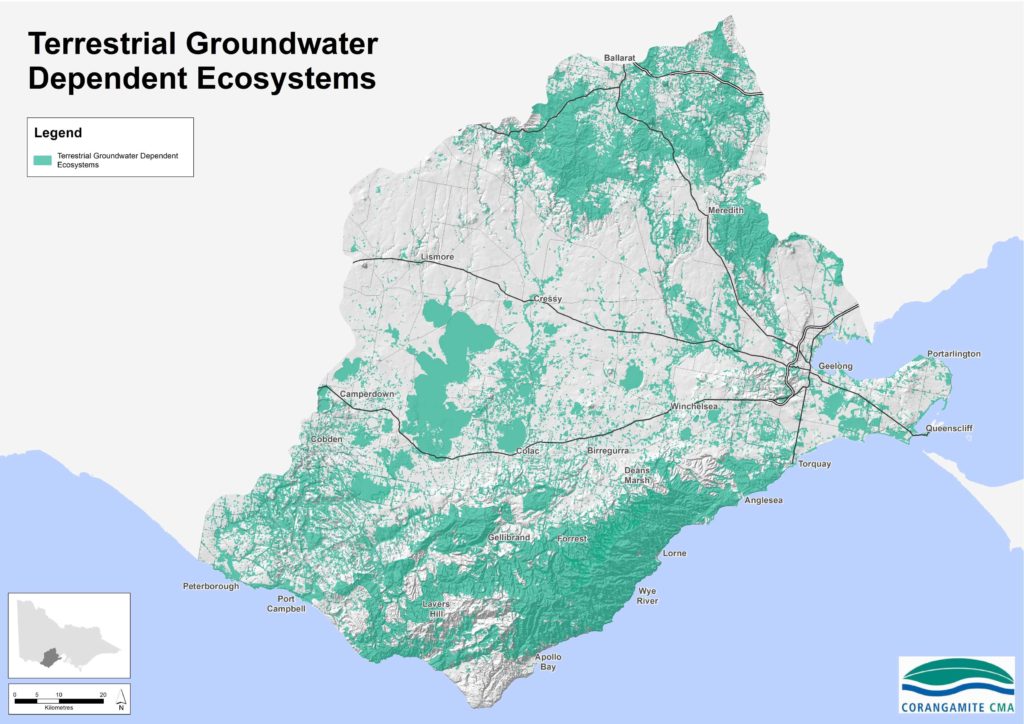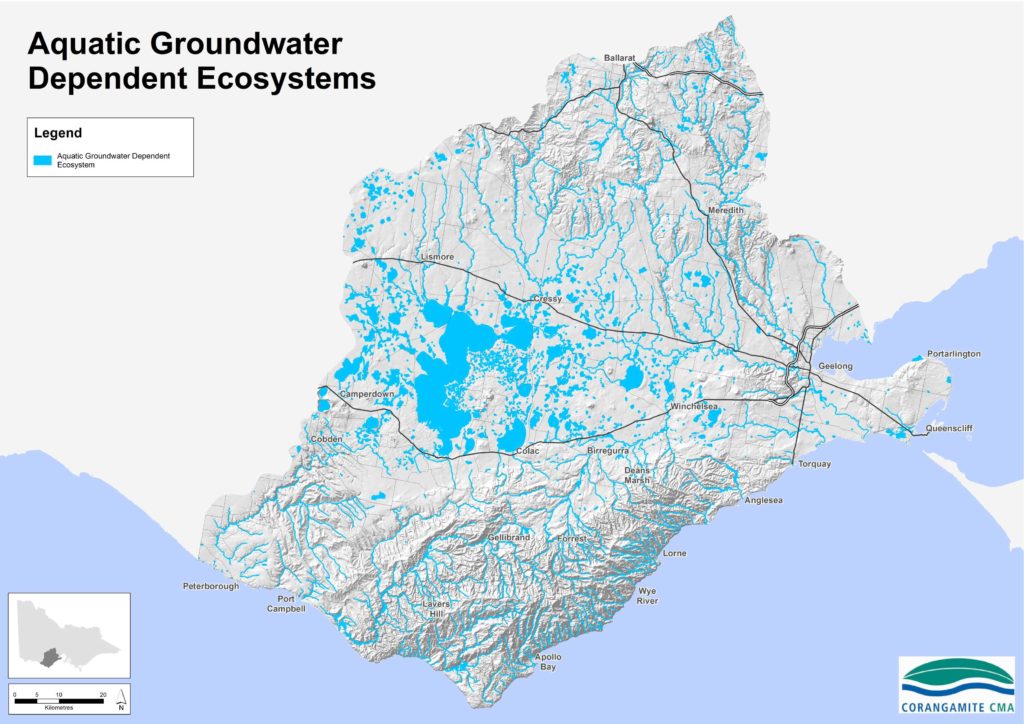 Waterway Amenity
Waterways support a range of human "amenity" values related to the quality of the sensory visitor experience. The amenity values of waterways are defined by the experience of naturalness, escape and safety and the built infrastructure designed to enhance these experiences. For instance waterways support many recreational activities such as walking, cycling, boating and cultural heritage education. Visitors to waterways have different expectations on the types of recreational activities catered for, the feeling of naturalness that they would like to see and the absence or presence of facilities, signage and access to various river lengths. Therefore, planning waterway amenity should be driven by community expectations, the existing natural features of each waterway and the current infrastructure and recreational activities catered for. Careful planning is required to ensure that along any one waterway, there are a variety of amenity values catering for different user experiences. The following maps portray 'naturalness' and 'use' amenity for a defined reach segment in a specific area within our region. They are presented as a set of 'current' and 'desired' amenity for each of four areas – namely: Yarrowee River and portions of the Moorabool and Barwon Rivers.
Map 1a – Current Amenity for Yarrowee River Ballarat – Gong Gong Reservoir to Buninyong/Mt Mercer Road Bridge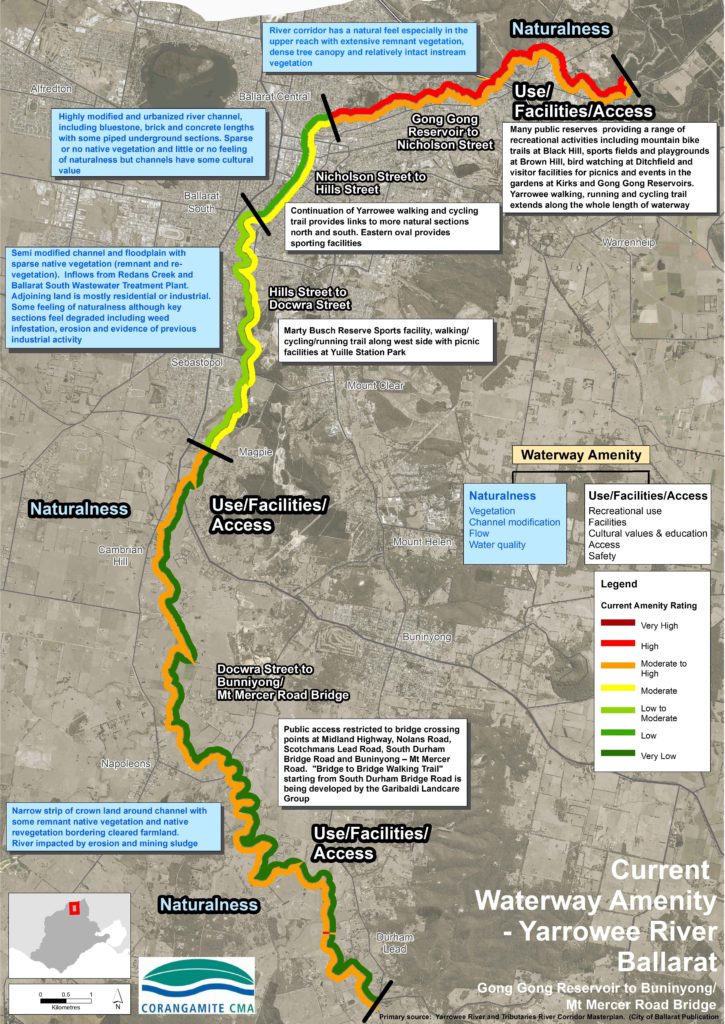 Map 1b – Desired Amenity for Yarrowee River Ballarat – Gong Gong Reservoir to Buninyong/Mt Mercer Road Bridge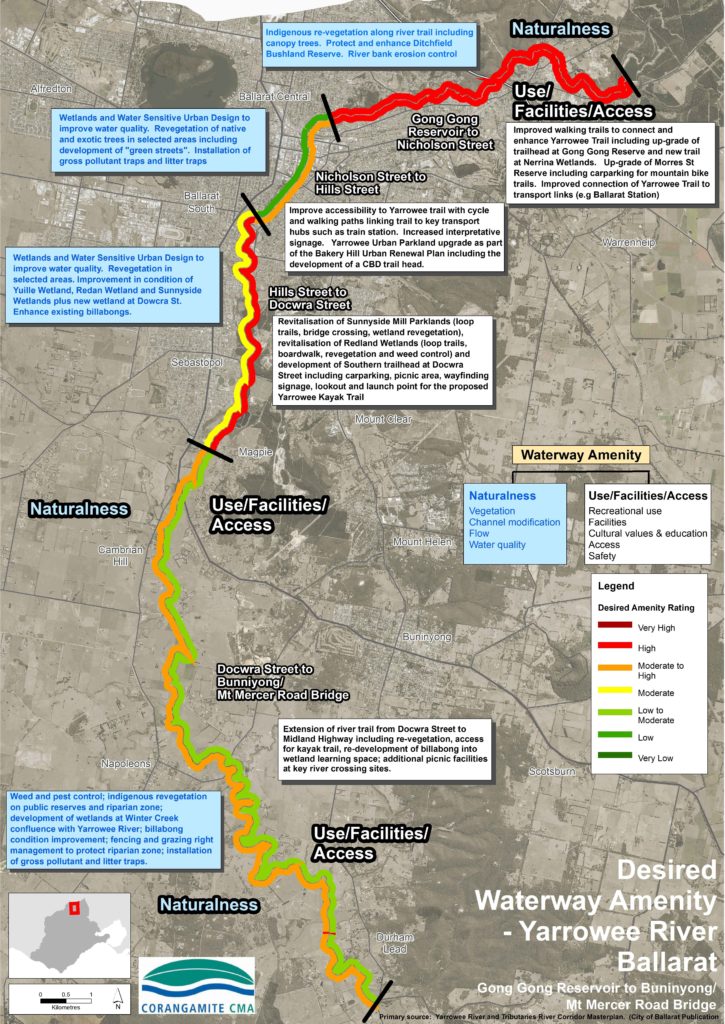 Map 2a – Current Amenity for Moorabool River – Meredith to M1 Freeway )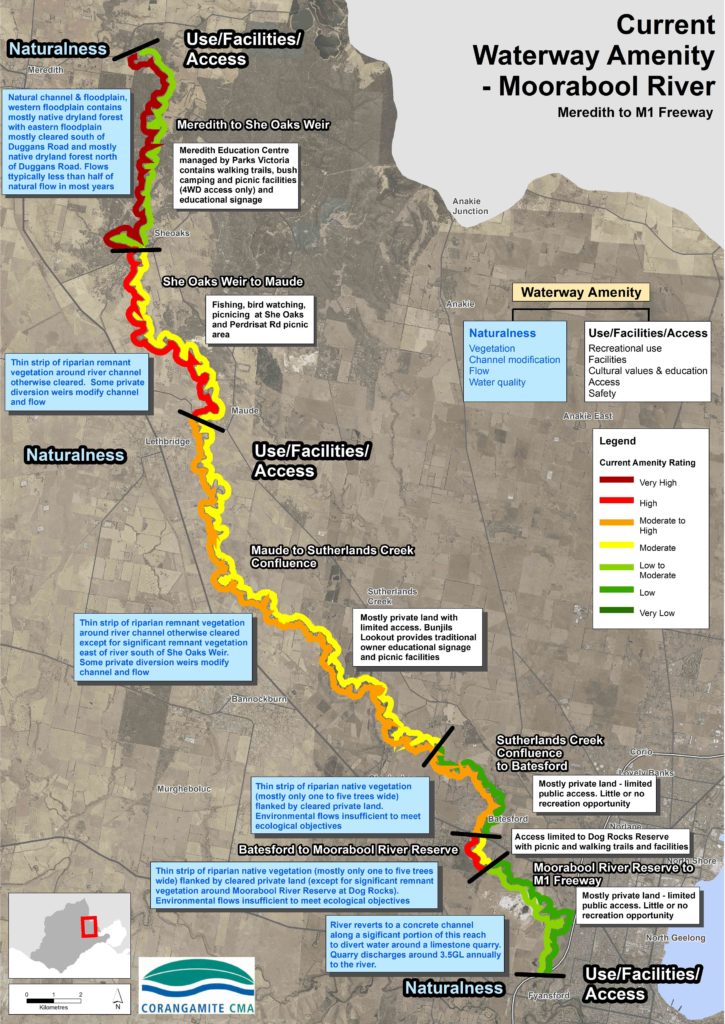 Map 3a – Current Amenity for Moorabool and Barwon River – M1 Freeway to Breakwater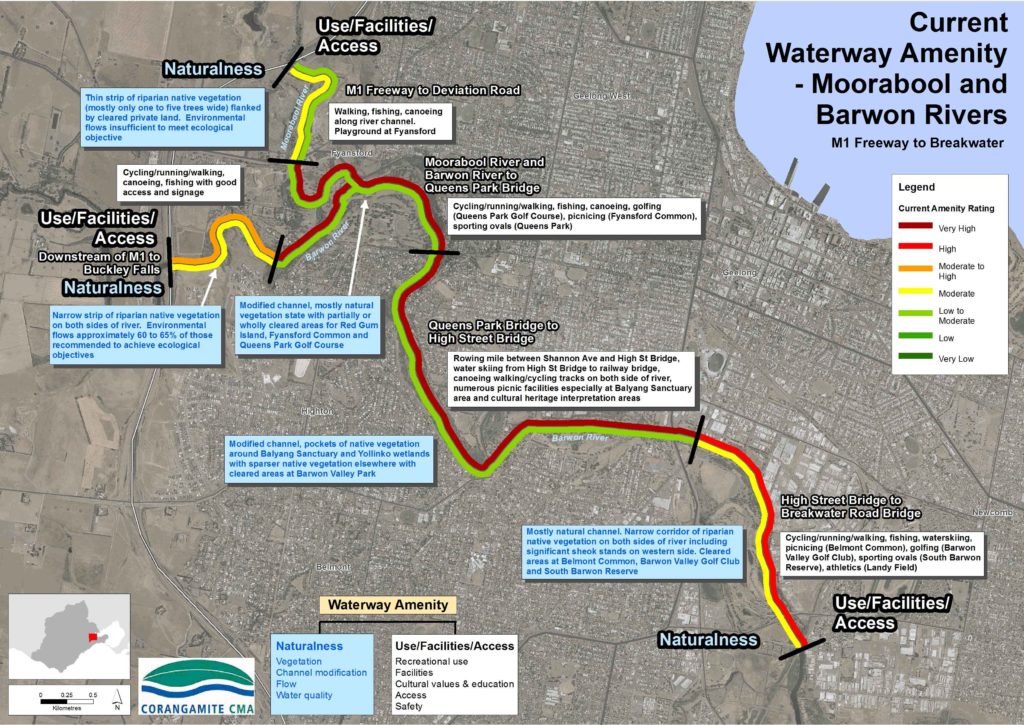 Map 4a – Current Amenity for Barwon River – Breakwater to Barwon Heads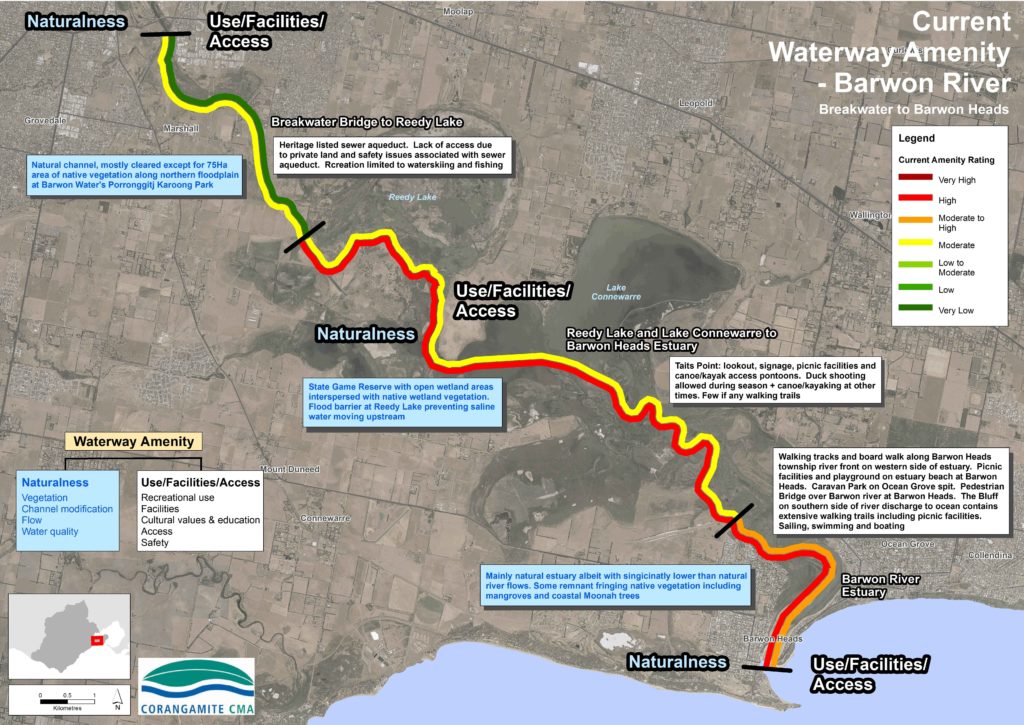 Coast and Marine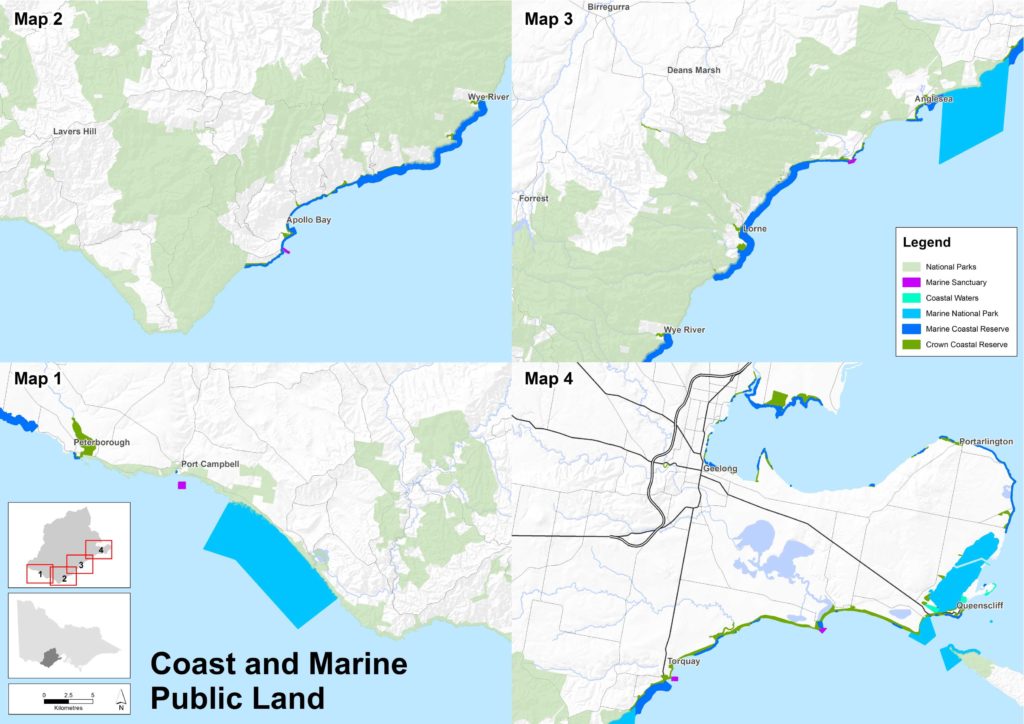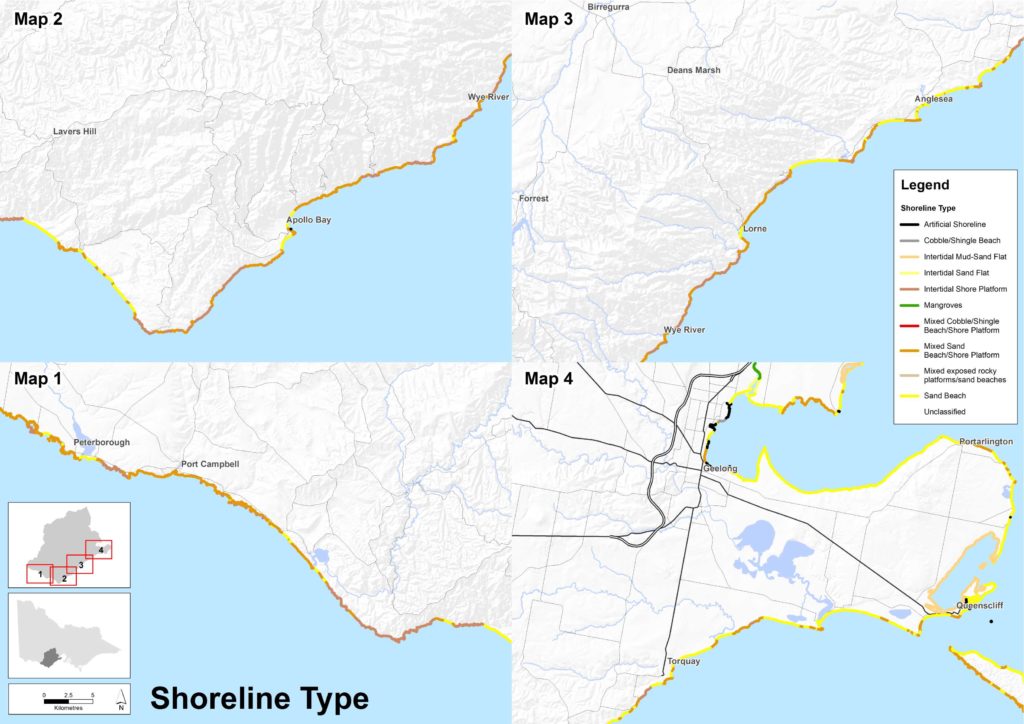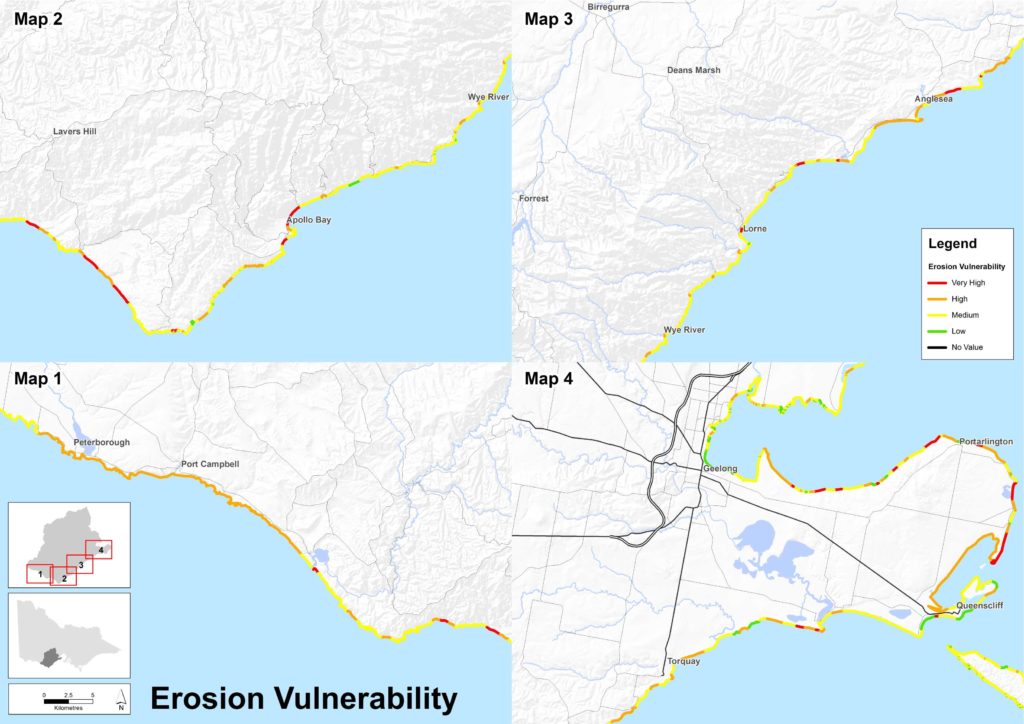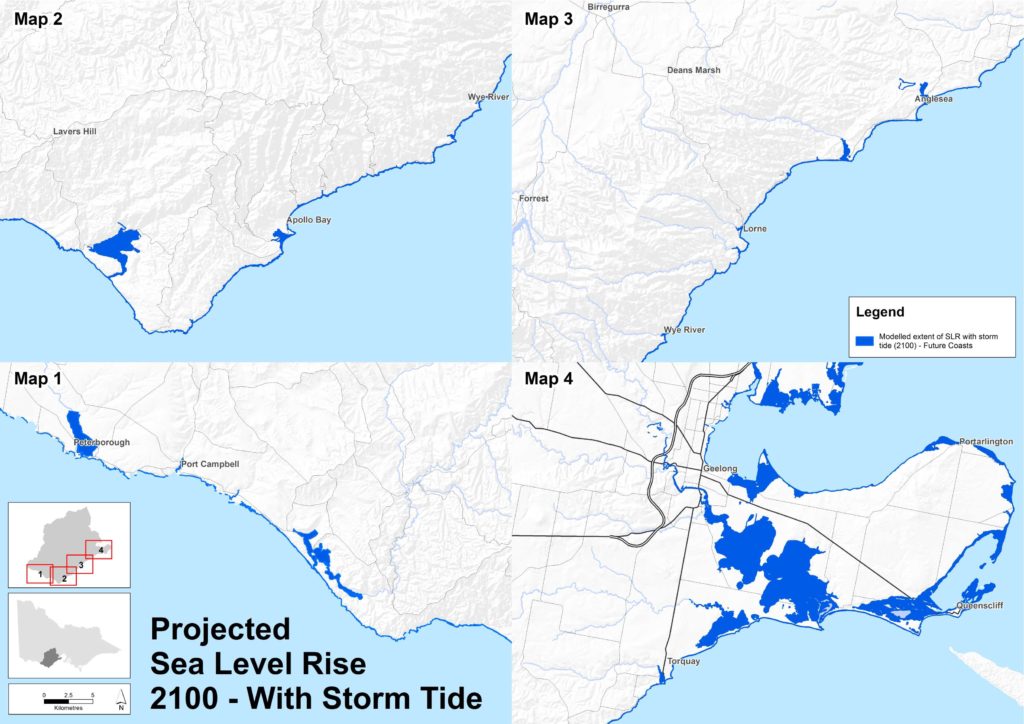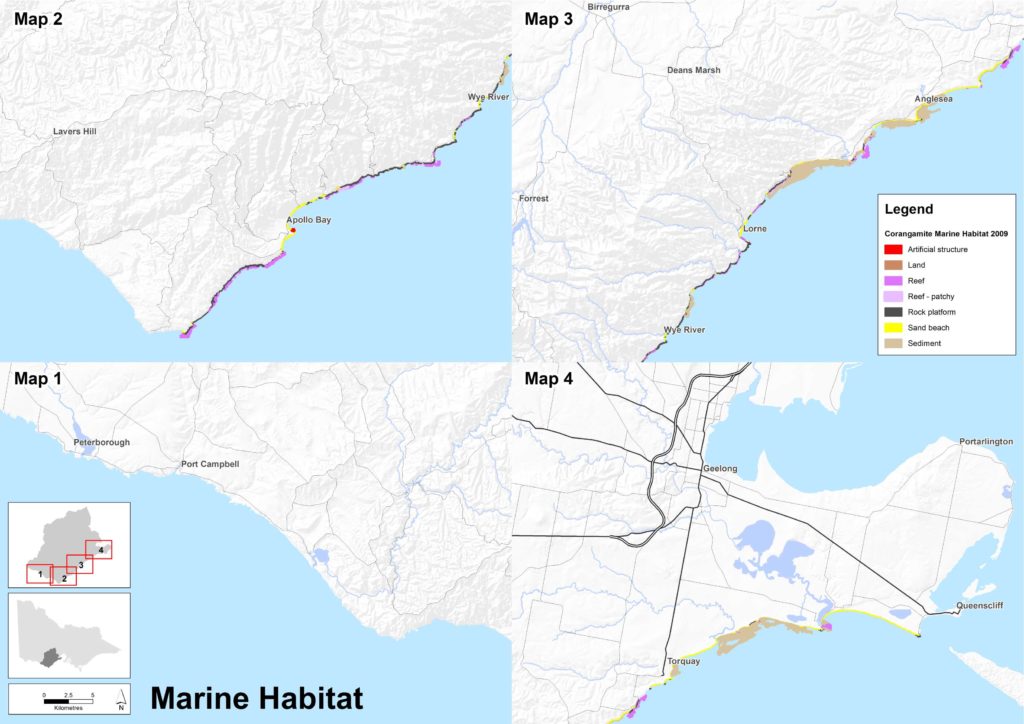 Community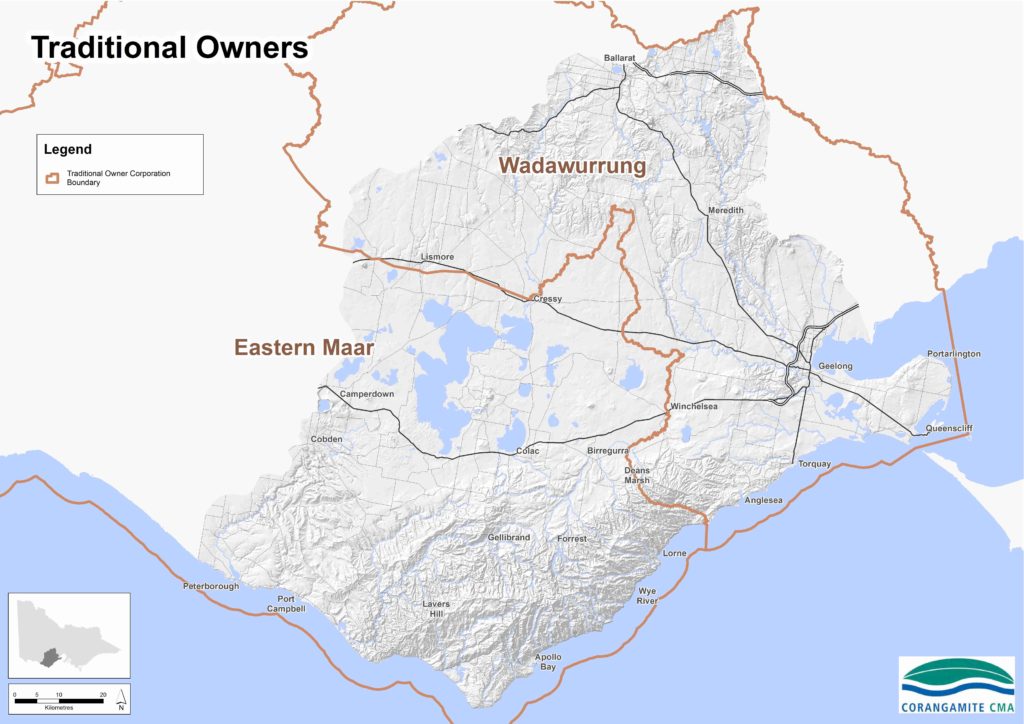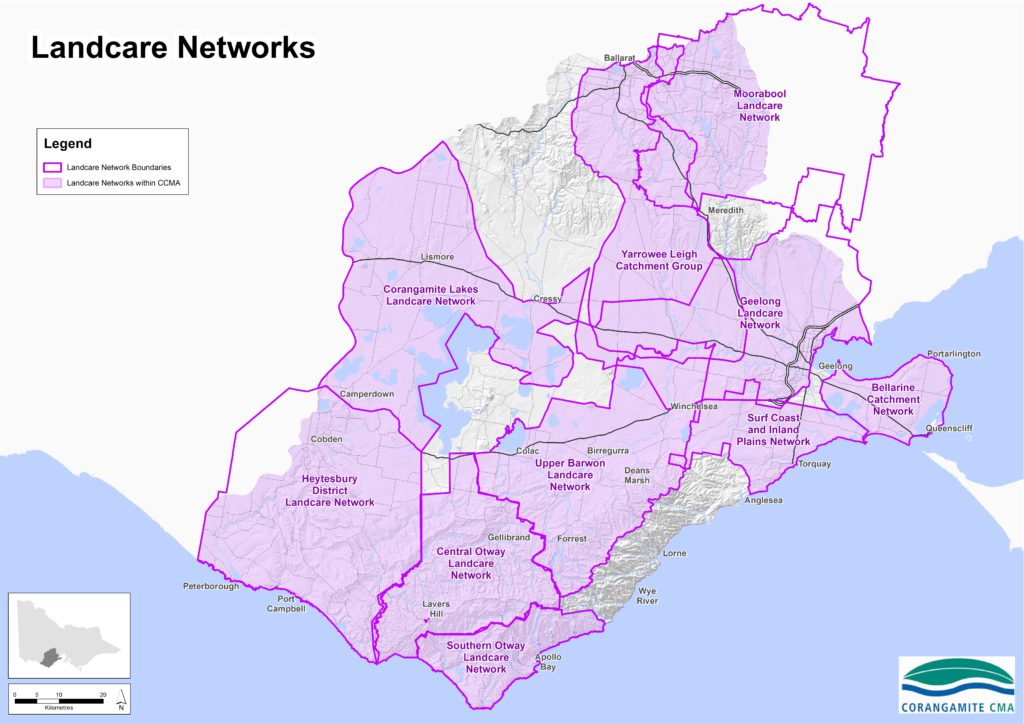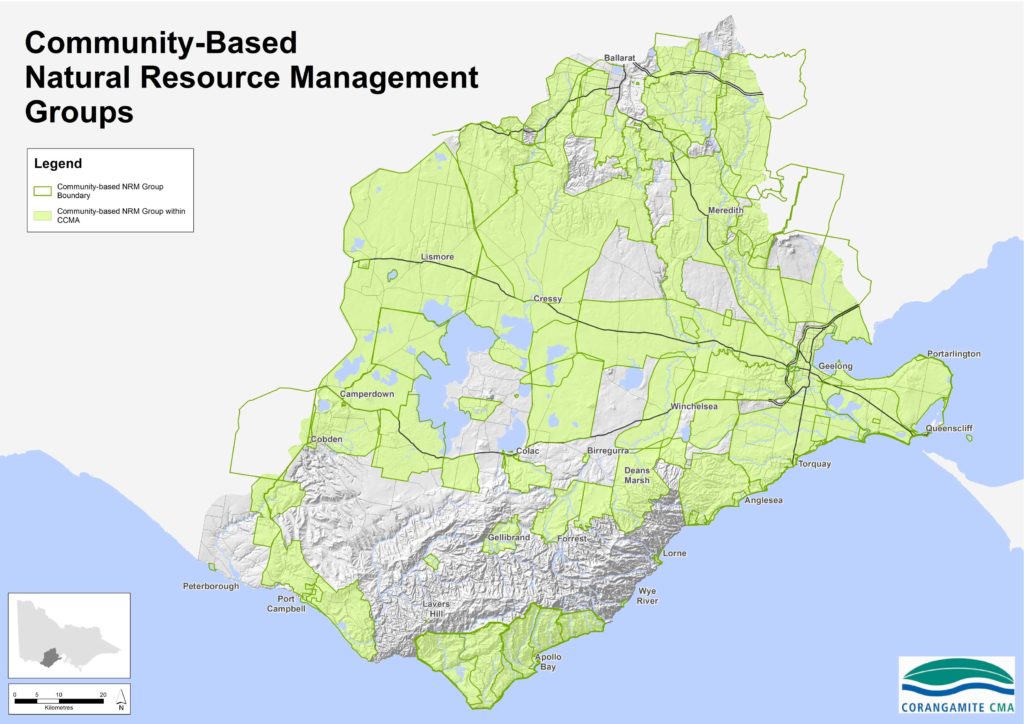 Interactive Maps
The Natural Resource Management Planning Portal provides users with an interactive format to view their property, their catchment and their landscape.
Visualising Victoria's Biodiversity is a site that can be used to discover and share spatial information on Victoria's environmental values, conservation activities and research.
CoastKit is a tool for coastal and marine managers and researchers, that brings together marine and coastal scientific data, images and resources. CoastKit has been developed by DELWP to provide an online data repository for the community to explore and use Victoria's marine and coastal information. CoastKit promotes standardised data classification for collection, reporting, monitoring, assessment and evaluation.
Nature Kit is DELWP's biodiversity web mapping and reporting tool that has been developed to replace Biodiversity Interactive Map (BIM). It displays information on Victoria's biodiversity values, investment prospects, flora and fauna distribution, native vegetation, marine bathymetry and habitat, disturbance and land classification.
The Centre for eResearch and Digital Innovation based out of Federation University provides a range of interactive sites, these include:
Visualising Victoria's Groundwater which provides information from a range of bores across Victoria
The Corangamite CMA also provides a number of other sites including:
The e-Water Interactive Data Visualisation Tool enables the exploration of trends in water data at key gauge locations across the Corangamite river catchments
The Corangamite Flood Mapping Portal provides the user with flood related information for individual properties and the region.
The South West Climate Change Portal provides access to relevant maps and information regarding climate change scenarios and impacts across South West Victoria.