The Regional Catchment Strategy Guidelines produced by the Victorian Catchment Management Council require that "each RCS will define a set of landscape priority areas that cover the whole region". Three to 10 areas were discussed as an appropriate range and would reflect integration and partnerships, cutting across the many themes (land, water, biodiversity, community and coast and marine) involved in integrated catchment management. The landscape priority areas will be described by each CMA to reflect their local communities' priorities and partnerships.
The Corangamite region has some distinctive features that include parts of the central highlands to the north of the region, the Victorian Volcanic Plain runs through the centre of the region, the Otway Ranges to the south of the region and the Bellarine Peninsula to the east.
The development of local areas is systems based approach to identify appropriate management units within the landscape. A review of relevant spatial data identified areas with common features based on demographics, land use, vegetation, geology, geomorphology, soil, topography, hydrology, climate, bioregions and connectivity.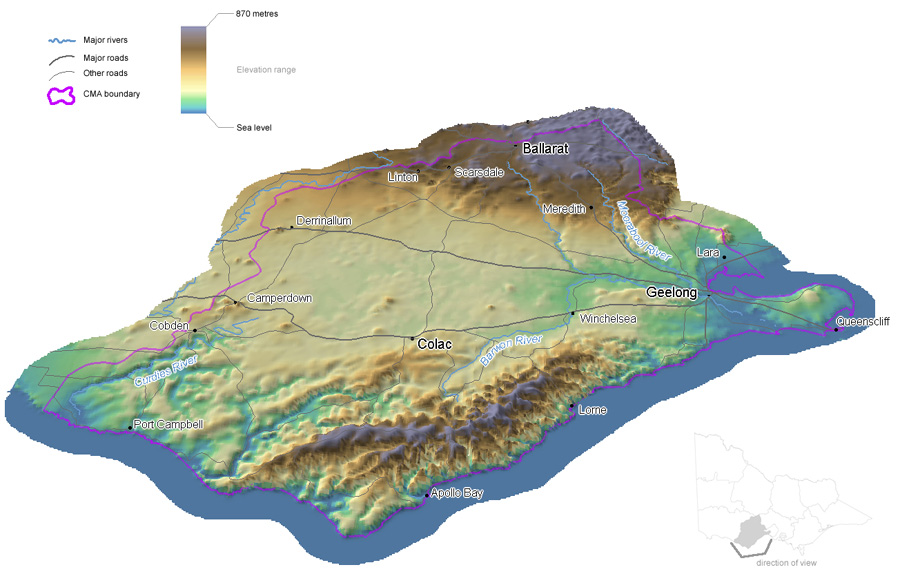 A system is defined as a group of interacting or interrelated entities that form a unified whole. A system is delineated by its spatial and temporal boundaries, surrounded and influenced by its environment, described by its structure and purpose and expressed in its functioning. It is reasonable to expect that the delivery of management actions will be simpler under this process as there will be more consistency in dealing with enterprise types, land types, climate and communities.
The previous Regional Catchment Strategy used sub-regional areas based on the region's four drainage basins, resulting in 15 sub-catchments or landscape zones. These did not necessarily reflect the way that land is managed or how community relate to where they live. The two major cities within the region were previously included within landscape zones Geelong (Bellarine) and Ballarat (Leigh). As these areas require management that is completely different to the surrounding rural areas it is logical that these are separated out. Three components that underpin the concept of socio-ecological systems are:
Landscape – the visible features of the land
Livelihood – a means of securing the necessities of life
Lifestyle – the way in which a person lives.
These can be readily applied to the nine landscape systems that have been developed for the Corangamite region and are reflected across these.